ColoDan® is 100% Danish colostrum with nothing added and nothing removed, except water. A delicious natural diet supplement.
ColoDan® Whole Colostrum – colostrum just as nature provided it!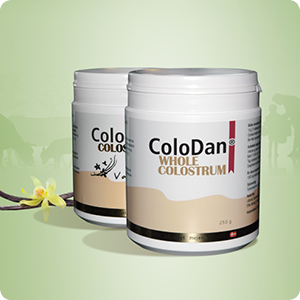 ColoDan® Colostrum
ColoDan® Colostrum is 100% pure Danish colostrum from cows on local farms in Southern Jutland, Denmark. Colostrum has a high content of proteins and a natural content of Immunoglobulin G (IgG).
ColoDan® Whole Colostrum is 100% pure colostrum without any additives or added flavours.
High quality colostrum
Our colostrum is dried by a very gentle technology to secure a maximal preservation of the bioactive factors and the important milk matrix. Nothing has been added and nothing removed – except water.
Strict demands for hygiene and regular quality assessments throughout the entire process from cow to product is our guarantee that ColoDan® Whole Colostrum is of the highest quality with a high bioactivity and guaranteed free of antibiotic residues.
The calf gets first – only surplus for dietary supplements
Biodane Pharma has an agreement with our farmers that the calf gets its needs fulfilled before the farmer collect the surplus colostrum for us.
The calf needs up to 5 litres of colostrum to cover it needs. The cow produces up to 15 litres of colostrum, and the surplus may be collected for other purposes, e.g. dietary supplements.
10 litres of colostrum correspond to just 2 kg of colostrum powder. This means that one cow only produces enough surplus colostrum for 8 tubs of ColoDan® Whole Colostrum in one year. Colostrum is exclusive!
The natural taste of colostrum
ColoDan® Whole Colostrum is 100% pure colostrum with no additives or flavours. The powder therefore tastes of concentrated colostrum, which has a slightly sweet milk powder flavour.
If you do not enjoy the taste, you may consider mixing the powder into chocolate milk, yogurt etc.
Colostrum with no additives or added flavours
ColoDan® Whole Colostrum is 100% pure colostrum just as nature provided it. The natural composition has been preserved, just like the important milk matrix. Nothing has been added and nothing removed – except water.
Milk product with low content of lactose
Colostrum is a milk product and people who suffer from lactose intolerance or milk allergy should be extra cautious about possible reactions. It is noticeable that the lactose content in colostrum is much lower than regular milk, and some people with lactose intolerance experience no adverse effects from colostrum.
You can drink and eat colostrum
It is easy to mix ColoDan® Whole Colostrum into milk, chocolate milk, juice or any other liquid. Use a shaker or a blender to get it dissolved well. May also be stirred into yogurt and the like, or into a smoothie to increase the protein content and add a natural boost.
Should not be heated above 60 °C.
Colostrum as daily supplement
Recommended daily dosage for ColoDan® Whole Colostrum for adults and children from 11 years of age is 10 gram (1 scoop) 1-2 times daily, and for children 1-10 years of age it is 5 g (½ scoop), 1-2 times daily.
Take colostrum 1-2 times daily as a part of a varied diet. If you want an extra boost, try taking 20 g (approx. 4 tablespoons), e.g. 2 tbsp. in the morning and 2 tbsp. in the evening for a period of 14 days.
Colostrum in short
Colostrum is a 100% natural product. It's the first milk provided by all mammalian mothers to their baby right after birth. It contains high amounts of protein and immunoglobulin G.
The many hundreds of different bioactive factors and nutrients in colostrum constitute the colostrum milk matrix. It is extremely complex and essential for the effects of the bioactive factors due to their interactions and cumulative effects, a concept known as food synergy. They enhance each other's effects. This highlights the importance of keeping the milk matrix intact in order to maintain the effects.
Bovine colostrum
Colostrum differs from normal milk by having a high content of immunoglobulins, lactoferrin, lactoperoxidase and list of other important proteins. Therefore in addition to covering a basic nutritional need, the colostrum can protect the calf as the calf, unlike human children, is born without an immune system.

Buy ColoDan® Colostrum
You can buy ColoDan® Whole Colostrum here in our web shop at a very fair price. We ship to UK and Ireland and the shipping is free when you buy for more than 55 GBP.
Buy your colostrum here and get your daily boost delivered directly to your front door.
Dietary supplements should never be used as a substitute for a varied diet.
ColoDan® is a registered trademark